The flagship product, Intralinks Virtual Data Room, has a need for business processes during multiple phases of the Deal Lifecycle. The highly secure nature of the deal prep and due diligence phases need a process such as document approval workflows that are recorded should they be needed for an auditing process. Due to the large variety of industries that Intralinks clients span, the product would need the ability to create a business process and then configure and customize it to meet the needs of the customer.
Business Process Feature Requirements


•  Ability to CREATE business process templates
• Ability to CONFIGURE a business process using an existing workflow template
• Ability to ACTIVATE a business process once configured
• Ability to select individuals in a project to INITIATE  the workflow
• Ability for groups and individuals defined in a business process to EXECUTE tasks within the workflow end to end
simplified configuration
In our legacy product, business processes were created and configured using input form fields. It was incredibly difficult to understand relationships between steps and the overall flow. I suggested we try a more visual approach to the set-up. Configuration steps expanded and collapsed within the flow reducing visual clutter and allowing the user to focus on only the current step.

kickoff a new business process
From the key area of the data room, the documents tab, users could quickly initiate a workflow from a document. Selecting a document and using the right-click context menu would open up a slideout where a workflow instance could be configured.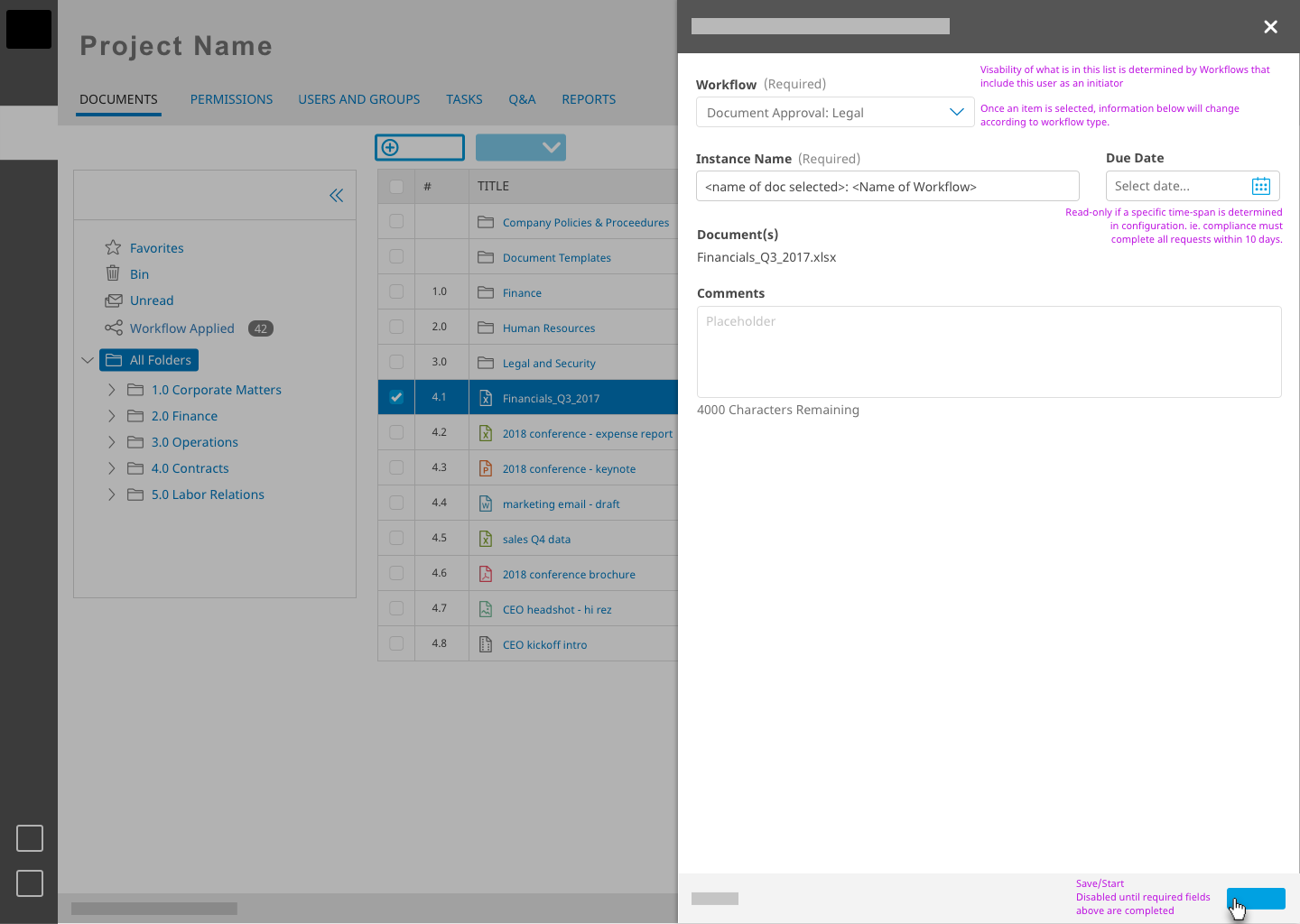 See status at a glance, take action
From the documents tab, workflow participants could quickly filter and see the progress of documents that had a workflow applied to them and take action.

seamless collaboration

Commenting features allowed for feedback and questions while reviewing. A preview window of the document facilitated quick review and approval.

document history

Easily access and review the history of a document for auditing purposes.